Hungarian Vizsla puppy
My Leo a Hungarian Vizsla puppy
In the Summer of 2014 my boyfriend and children came up with the repeated question "can we have a dog, please please, can we please have a dog" now I'll be the 1st to admit I'm not a dog person, I've had cats for years but a dog? hmm I wasn't so sure, I protested for some time and then I thought, ok, a dog? let's get a dog, but it has to be on my terms, it has to be a dog I'll love, a Hungarian Vizsla puppy.
At that point I started to do some research, I looked a few different breeds of dogs, I checked out their life-span, illnesses, temperaments and of course there looks. I seen a hungarian Vizsla was a perfect dog for our family, my attachment parenting ideal's fitted this dog type, they were handsome, active, cuddly and a cheeky, just like my own children. I was sure my puppy would fit right in.
is one of the HPR (Hunt, Point, Retrieve) breeds and can be described as a medium-sized and 'many-sided' hunting dog or, put simply, as an all-purpose gundog. Although the breed has a reputation for being both easy to train and affectionate, you should NOT get the idea that owning one will be a picnic! Their merits as working dogs are well-known so the focus here is to comment on their role as a family pet, since a considerable percentage of all litters is destined to fill that post. Your Vizsla will need careful management and clear and concise direction if it is to become a valued family member. The following points should be taken into consideration and most have been provided by Jackie Perkins – a breeder of over 20 years standing:
TEMPERAMENT
The temperament of your Vizsla is paramount and, in the opinion of Jackie Perkins (GARDENWAY) this is still the most important quality for your consideration. After all, a dog may be the most beautiful one of its kind but, what good is he or she if you cannot live together harmoniously? Your Vizsla should be confident and friendly towards both humans and other dogs. How you manage your Vizsla will impact enormously on its temperament. Few people or animals respond well to harsh handling and there is little doubt that most 'problem dogs' are the result of poor handling, often from the owner's ignorance.
COMPANIONSHIP
The Vizsla thrives on human companionship and it MUST be a valued member of your family, as so many owners will testify. However, in order to fulfil that special role, your Vizsla has to know his/her place. Of course, this is the case with all dogs but, many years of experience with the breed has shown that the Vizsla excels in cleverness and downright cheek! If you go out to work for long periods, a Vizsla is NOT the dog for you (and, really, no dog should be!). Left alone, in such circumstances, its intelligence will quickly come into play. If your Vizsla becomes bored, it may seek to relieve its boredom by re-designing the legs of your furniture or cupboard doors – at least those s/he cannot open and empty! Or, maybe, your favourite knick-knacks that its ever-searching gundog nose can sniff out might be preferred! And, toilet training will probably take for ever – if, indeed, it is ever learned at all! Such behaviour is hardly likely to endear him/her to you . . . However, if you are at home with your Vizsla during those early, formative weeks and months, you will not only have untold fun, as you realise his potential and capacity for learning, but you will also develop the essential rapport that will form an unbreakable bond between the pair of you.
PERSONALITY
Take a look at the results of the Shows, Field and Working trials, Agility, Obedience and all the other, wide-ranging activities in which the Vizsla is involved. You immediately realise you have a multi-faceted animal in your life. Not only hard-working, but also intelligent, intuitive, inquisitive, instinctive and 'in-your-face'. That's your Vizsla and you ignore him/her at your peril!
The next step
We then started to look at breeders for a Hungarian Vizsla puppy, I made calls to other owns, asked them questions, I phone the hungarian Vizsla club and the hungarian Vizsla society for advise. I dismissed so many breeders for many reasons, until one day I found the ideal breeder, what was better she lived close to us and that made visits easier. I called her up and realised she was just like me, children and with the same ideal's in life as I have. I knew she was a good person & i trusted her as a breeder! that was it, we've found our litter.
I knew I wanted a male, and I knew he be called Leo, Leo was a name I had picked in case I had a son for 9 years! I never had that son, but now I had my boy.
We paid a few visits to see Leo, show the children Leo and then at 8 weeks old, we got to bring Leo home, We had everything prepared, his bed, cage, toys, collar, leads, training treats, blankets and of course his food. As our cats were raw fed and we live in a house of no processed foods, the choice to raw feed Leo was an easy one.
Our 1st night home we thought we keep up what he was used too, we put him in his cage in the kitchen, that did not work, he cried pretty much most the night, by night 3 he was in the bedroom with us, his bed by our bed, by night 4 he was in the bed with us…. then night 7 we realised, he needs to go back in his bed! this was a huge learning process and it wasn't too bad of a one compared to some. 
After some time Leo didn't want to be in our room, you see in the middle of the night small people come in my room shouting mammy, so I think Leo was just a bit sick of being woke up by them and he started to refuse to come upstairs for bed, back to the kitchen for Leo, we put a stair gate on and his bed in the kitchen and the cage door open, he was a happy puppy and slept perfect there. we done well.
Now I won't lie, having 3 young children, one with Autism & a puppy is hard going, but their much the same, I found when I said "enough" to the children Leo stopped too and sat by my feet, he understood me.
I had some time off work so I thought, let's get training, soon Leo knew, sit, stay, paw, lie down, fetch as well as stop, enough, and he was learning "come" that most important word a puppy needs to learn. time for a trip to the beach, now leo was 14 weeks, had all his injections and he came back when i asked. we were on the way to success.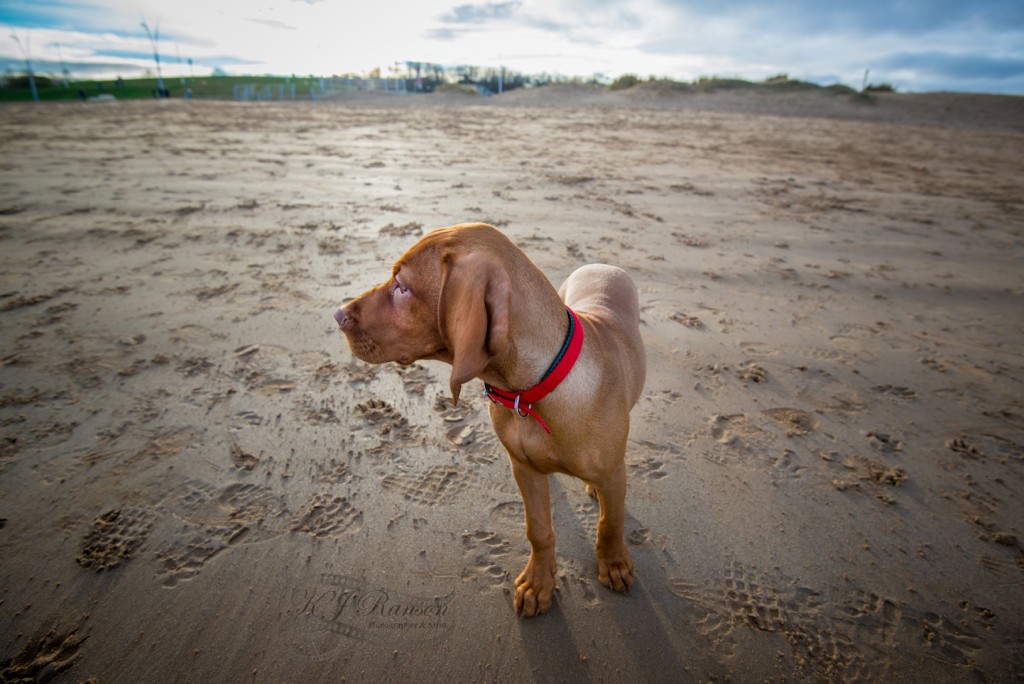 Now as I mentioned before, leo wasn't my only pet, Leo had to meet Billy and Bruce, my two cats, now Billy hates everyone, she's 12 years old and very moody, all she likes is a warm spot and cuddled, but as she's been there all my life she's seen the birth of my 3 children and of course the arrival of Bruce, who she also hates! then there's Bruce, who hates Leo but loves to wind up Billy, so as you can see, there was a stand-off. Now at 18 weeks, Bruce steals Leo's food, Billy still hates all of them and Leo is still trying to get them to play with him.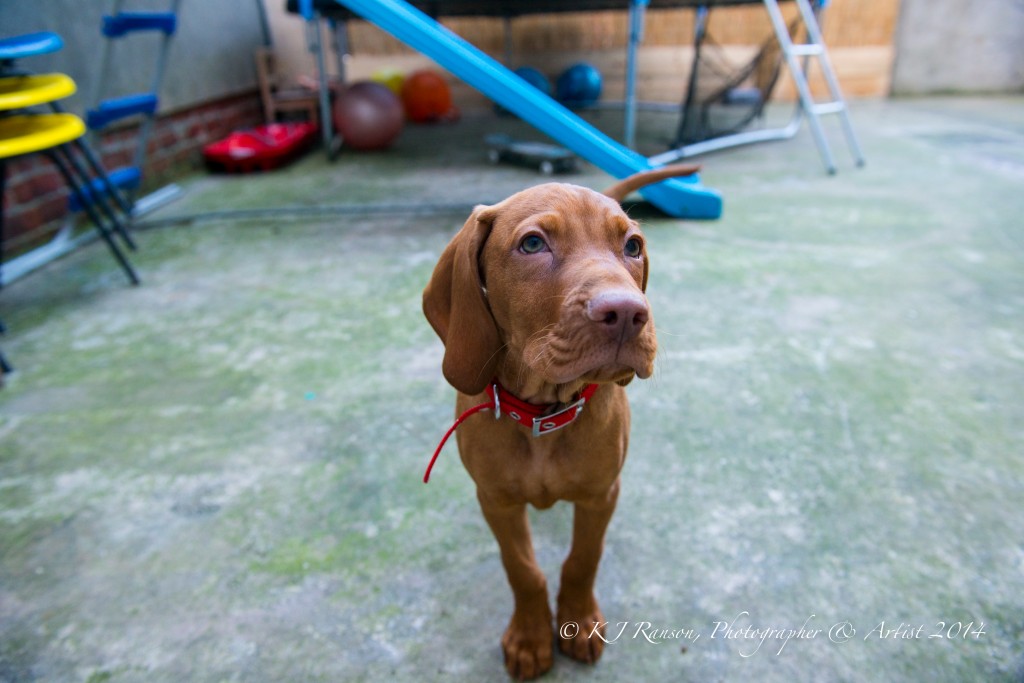 so now the adventure has started and were all in for the ride, a hungarian Vizsla puppy, best choice I've ever made in my life, but also the hardest too.